KAMPALA, Uganda | Real Muloodi News | Story Update: 20th May, 2022: On Wednesday, May 18th, a Kampala-based auctioneer advertised three of Mr Patrick Bitature's prime properties for sale in the Daily Monitor Newspaper, prompting the businessman's lawyers to swiftly dismiss the move as "without legal basis".
According to Quick Auctioneers and Court Bailiffs, the foreclosure sales where authorised by M/s Kirunda and Wasige Advocates, the law firm representing Vantage Mezzanine Fund II Partnership in a protracted commercial case with Simba Properties Investment Co. Ltd.
The prime properties in question are Elizabeth Royal Apartments in Kampala's upscale Kololo neighbourhood, Moyo Close Apartments in upscale Bukoto, and the Protea Hotel, Naguru, which offers a bird's eye view of Kampala.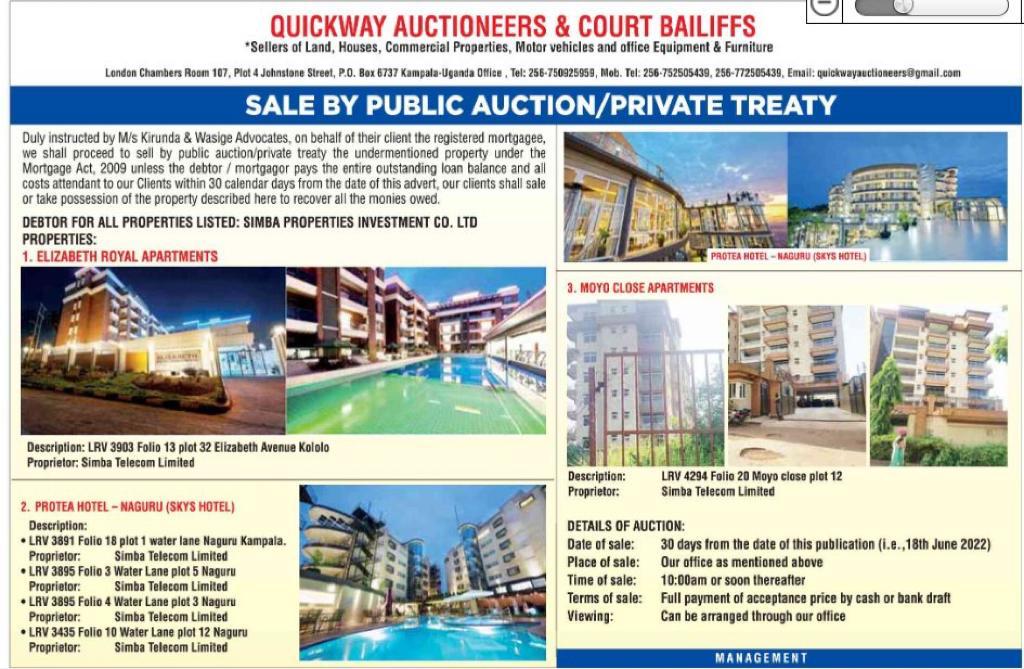 The move prompted an immediate public response from Mr Bitature's lawyers, Muwema & Co Advocates, refuting the advert, which they claim was issued without any legal basis.
In the open press statement issued on Mr Bitature's Twitter account, Mr Bitature's lawyers accused the Vantage lawyers of "misguided and unprofessional conduct…" which "undermines the authority of the courts of law to adjudicate disputes between parties and is also in blatant disregard and contempt of court orders".
Mr Bitature's lawyers claim that the legal dispute between Simba Properties Investment Co. Ltd and the South Africa-based lender was settled on May 9th, when High Court Judge Justice Musa Ssekaana ruled that Vantage Mezzanine Fund II Partnership was not duly registered as a partnership in Uganda and, therefore, lacked a legal identity to sue or be sued.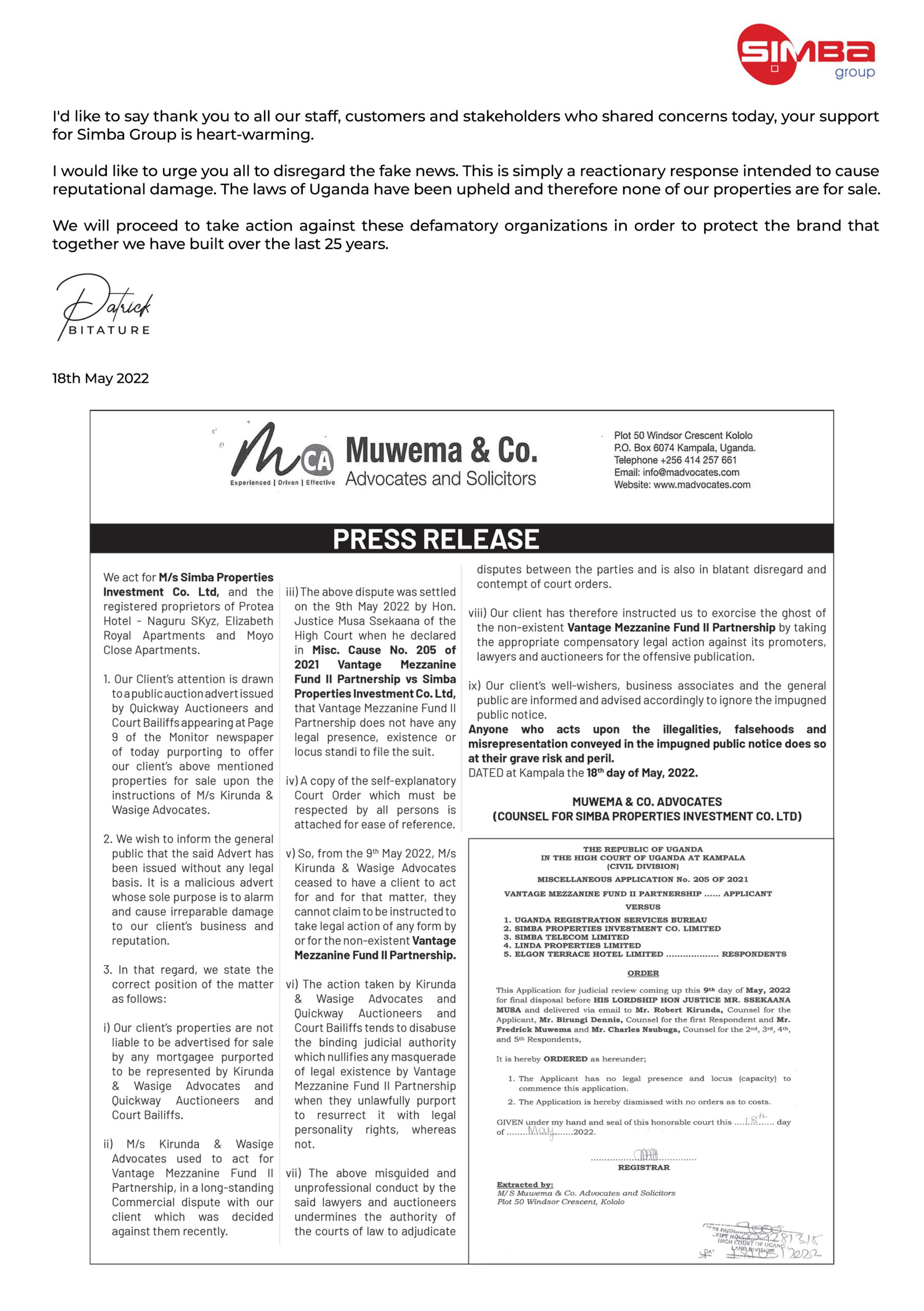 Representatives of Vantage Mezzanine Fund II Partnership say they will respond at the right time to denials by Mr Bitature's lawyers and other "false" information circulating in the media.
---
Original Story, published 12 May 2022: Real estate muloodi Patrick Bitature is celebrating after a High Court judge stopped a South African money lender from taking over his vast business empire.
Mr Bitature, the Founder and Chairman of Simba Group, had in 2014 secured ten million US dollars (Ush36 billion) in funding from South African debt provider, Vantage Capital.
The loan was made to Simba Properties Investment Company, the property investment arm of Simba Group. Mr Bitature reportedly took the debt aiming to expand his real estate portfolio.
At the time of entering into the loan, Mr Bitature said, "Vantage brings an important and exciting new model of financing to the East African region. Simba Group is pleased to have found a strong mezzanine financing partner who provides medium term growth capital but does not want to take our hard earned equity."
However, rather than expanding Mr Bitature's real estate fortunes, some five years later, Mr Bitature's debt had skyrocketed to close to thirty million US dollars (Ush100 billion). Struggling to pay back the debt, Mr Bitature found himself at risk of having to surrender his entire business empire to auction.
Mr Bitaure's business empire boasts of oil and gas, power generation, telecoms as well as swanky hotels.
Luckily for Mr Bitature, in a recent high court ruling, Justice Musa Ssekaana has declared the transaction illegal and untenable.
Inside the Deal, and Where it Went Wrong
It has been reported that Vantage Fund persuaded Bitature into entering a very dangerous agreement that handed over his entire business empire to debt provider.
Under the agreement, Bitature was convinced to surrender all his businesses as securities for purposes of covering the debt.
Upon agreeing to hand over the businesses, the money lender made Bitature write and sign transfer forms. These transfer forms were akin to Bitature selling his properties to the money lender should he fail pay back the loan.
When Mr Bitature failed to return the money to the lender in time, it attempted to collect on the debt which had purportedly ballooned to a whopping USD $26,486,633.47 dollars by December of 2019.
The South African money lender later instructed its Ugandan lawyers to demand the Uganda Registration Services Bureau (URSB) execute the transfer forms, allowing it to take over the tycoon's business empire. It even paid USh1 billion in fees to facilitate the transfer.
However, Vantage Capital had failed to adhere to the mandatory legal process of registering its business in Uganda before conducting business here. Operating as a partnership in the country, it was legally required to register with the URSB before entering into the loan agreement with Mr Bitature.
Owing to this oversight, URSB refused to change the ownership of the securities which Mr Bitature had purportedly transferred into Vantage Fund's name. The URSB managers said they couldn't do so because the transfer they were pursuing was a matter of contestation before Justice Boniface Wamala.
Much as Justice Ssekaana faulted URSB for pausing the alteration of the real estate business empire in absence of injunction order from court, the judge noted that the fact that money lender had hidden the loan transaction from URSB in the outset, there was no way court could revisit the decision taken by URSB.
Representing Mr Bitature in the court proceedings was law firm Muwema and Company Advocates; the same law firm that represented tycoon Ham Kiggundu's landmark case against Diamond Trust Bank, where the Bank was also deemed to have been fraudulent.
Apart from being a real estate muloodi, Mr Bitature is the board chairman of UMEME and UTAMU University. He is also a Consulate.
READ MORE LIKE THIS: 
Hamis Kiggundu vs DTB; DTB Set to Loose Billions in New Application
After Court Case, Actor Isaac Muwawu Finally Has a New Estate in Which He Delights